Introduction
In general, it can be said that my volunteering project started very interesting. In this blog I will describe things and subjects like:
Environment which include workshops and living places;
Daily routine – What are my commitments and responsibilities;
Extra activities, like participating in volunteer day, attending conference about our workshops, visiting ex-volunteer house.
When I arrived in Gdansk, I met my coordinator Maria, who came with two other volunteers in airport. The first days I spent to get PESEL in the city hall, to open bank account in local Polish bank and to get Polish mobile number. Maria supported me to manage these challenges.
I spent the first two weeks to familiarize all workshops. I attended all workshops and met workers and participants. I will describe three main workshop places below, which are located in different districts of the city. Beside that I will describe my living place which is also workshop place.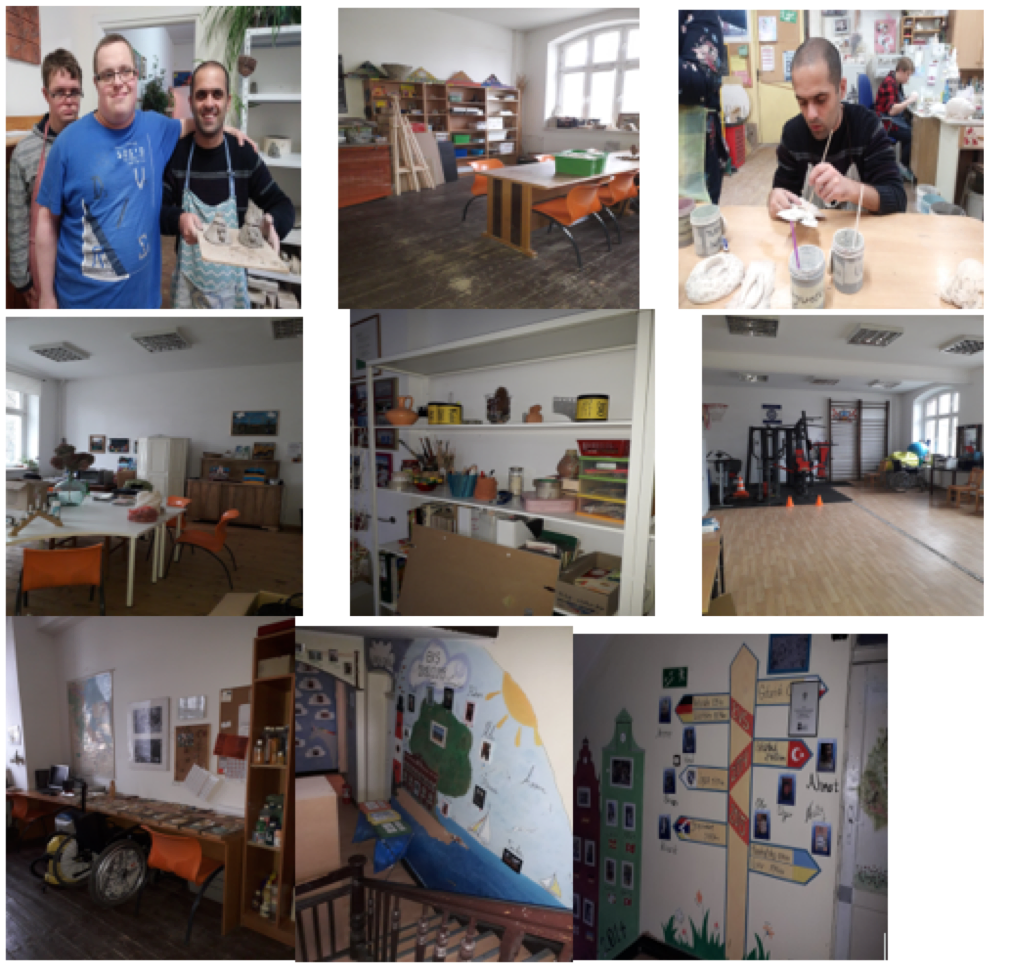 Environment (workshops, living place…)
As I mentioned there are three different workshop places. One is in północna 5. It is 30 minutes far from the city center. We work in two-storey building. At the top of this building (upstairs of second floor) there are some rooms for volunteers. Downstairs of the first floor there are kitchen (for volunteers) and other rooms for workshops.
The first floor is for participant and workers. They create different things, like postcards and handicrafts. Their materials often are with wood, metal, some parts of the old things (like a computer), etc.. We also have a gym on the same floor. Three days per week some participants have specially training lessons. Beside that one day per week there are two types of workshops: 1) painting workshop for some participants. Most of them create pictures; 2) Cinema. In this workshop all participants are obliged to participate in. The genres of these movies are often so different. The next workshop is about making paper. There is special place in the zero floor where participants and volunteers make some papers for postcards and paintings. The last workshop is about cleaning yard. This activity often take place two days per week in the morning. The second floor is for volunteers and administration. There are two rooms for administration, six bedrooms for volunteers and two bathrooms. One of the rooms of administration is also for meetings. This meeting take place every Monday and attend all volunteers and coordinators. There is often discussion about daily routine and agenda. I live in second floor of this building. My room is equipped for necessary items like bed, bedside table, armchairs, chairs, tables, chest of drawers, clothes valet, anglepoise lamp, heater, wardrobe and etc.
The second place for the workshop is in the Morena. Morena is the name of the district in Gdansk. There are only self-care workshops. Participants learn how to clean the house in this place. Beside that there are some workshops about art-therapy, where participants listen music, paint something build things from paper and so on.
The third place is in Niedzwiednik. It is also the name of the district in Gdansk. There is only ceramic place. All participants and workers create some figures (handicrafts) and then sell them. Before the Christmas there was big market where foundation sell many handicrafts and ceramic figures. All volunteers also participated in this event and helped workers to sell products.
Daily routine
As I mentioned I was learning about the workshops during the November (first two weeks of my project). When I finished this process I chose two workshops. I work three days per week in Polnocna and two days per week in Morena. The first place is more interesting for me than the second because it helps me to develop some practical skills. But the second place I chose simply because the other workshop place was not free and it was only one workshop where needed volunteer.
In Polnocna I make different activities: I help participants to make papers and some handicrafts from wood, metal and other materials. Sometimes we build up furniture. In Morena I help participants to clean the room and I also participate in some art-therapy which include painting and music.
Extra activities (international volunteer day, conference about our workshops, visit to ex-volunteer house)
Beside daily usual activities, I participated in many extra events, for instance:
Conference about our workshop;
International volunteer day;
Visited ex-volunteers apartments.
Conference about our workshop took place in December last year. Our volunteer presented organization and its key processes. People from other organization attended the conference. They also presented their affairs. There were volunteers who teach Spanish and Turkish languages. Conference was very interesting and interactive.
International volunteer day was on 5 December. There was a big march in the city center in Gdansk. Many volunteers from different organizations attended this event. At the end of this march all volunteers of our organization went to European Solidarity Center (museum).
At the end of December one ex-volunteer invited us to her apartment. We made some Christmas pies and other meals from Polish cuisine. These activities really help me to adapt local society, learn polish culture and lifestyle. I think it is very interesting process and help me to develop my personal skills.