Youth Association DRONI implemented a Youth exchange titled "ECODING – New Technologies For Environment, Employability And Civil Activism" in Rustavi, Georgia, between 3 – 10 July. The project connected young people from Germany, Georgia, Armenia and Sweden.
The aim of the project was for the participants to know about the basics of programming and working with robotics to create their own little website or app project as a group, develop a Digital Toolbox for young activists to connect the hard skills (coding, robotics, etc.) with civil activism regarding climate change and the environment, get to know different digital tools and assess them critically, get in contact with professional developers and IT experts and learn about this career path, see coding as a relevant skill and hobby at the same time raise awareness about different ethical questions (AI, IoT, robotics, algorithms, social media, cyber security), increase English language skills, critical thinking, employability, intercultural awareness and ability to teamwork.
REPORT FROM Nika and Serine:
The project e-coding started on the 4th of July at 10 am with games related to learning each other's names and some details about personalities. The second part of the session was team-building activities, in which participants had to come up with ideas for activities after the evening session, some energizers and recommendations about how to make a project more productive, interactive and interesting. After lunch participants wrote about their expectations, contributions and fears regarding the current project. In the evening session participants presented their organizations and the level of digitalization in each country. After the evening session, we had an intercultural evening, where Armenian participants shared their food. We played a digital game named Kahoot and the winner was rewarded with an Armenian souvenir.
REPORT FROM Yeran:
The fifth of July was the second day of the program, which started with a delicious breakfast in the Scouts centre's kitchen. We were supposed to be there at 9 o'clock, after which we had a meeting in the conference room at 10. The topic of the day was to explore in detail the possibilities of Erasmus+. We talked about the different programmes that it offers, the methods, aims, its target of it and the countries. We also talked about terminologies after which we tried to share our own experiences with each other. At 1.30 we went to have lunch, then we were free until 3 and we decided to go out and play tennis. In the next session, we had an interesting presentation about robotics and coding made by one of the participants. We got acquainted with some real tools used in programming and tried to practice them. Later, we had a coffee break and came to the conference room to watch the movie, which was about a social dilemma. By the end of the movie, we had a discussion and went to have dinner.
Wednesday was my favourite day so far! We are starting to really know each and are spending an amazing time. Our day started with a small group activity by national teams. We researched and then presented to the rest of the group environmental issues in our residing country and we formulated solutions to these challenges thanks to new technologies. We learned a lot about each other and the environments we live in, we also realized there are big disparities between regions concerning the protection of the environment. During the lunch break, we played some ping pong and had a lot of fun. We then moved on to another very serious topic: cyberbullying. We learned new words and concepts that we then played outside in small groups, some participants are definitely professional actors! The evening was a lot of fun because we got to swim in the pool, go around Rustavi at night, visit cafes and the mall and we finished the evening hanging out by the basketball ground, can't wait to see what is waiting for us tomorrow!
Thursday we went to Georgia's innovation & technology agency, it was super interesting. There are 8 of those places in Georgia, anyone can visit them and use the tools they put at their disposal. We had a tour, and saw different 3D printers, CNCs, Pick and Place machines, laser cutters, scanners, reflow ovens, oscilloscopes… We then had a workshop about artificial intelligence, it was fun and interactive, we discovered a lot of things, including how Amazon uses artificial intelligence, how Google can recognize faces and how self-driving cars analyze the road and drive on their own! It was all very exciting and questioning at the same time, and we got to debate the moral dilemmas artificial intelligence raises. After the workshop, we had a walk around Mtatsminda, enjoyed a beautiful view of Tbilisi and some of us visited Mtatsminda amusement park.
Friday was our free day! We started with a visit to the Illusion museum and Pirosmani museum in the old town, enjoyed a little pick-nick and had a walk in the city. Some of us went shopping while others went to the waterfall. We all met for dinner at 7 pm in a traditional Georgian restaurant. There we had typical dishes such as eggplant with walnuts, nadughi cheese, spinach and beetroot Khali or barbecue meet. It was all delicious and we got to enjoy a concert and traditional Georgian dances! We also took to the dance floor at some point and that was a lot of fun. We continued on the bus while heading back to Rustavi, it was an amazing evening!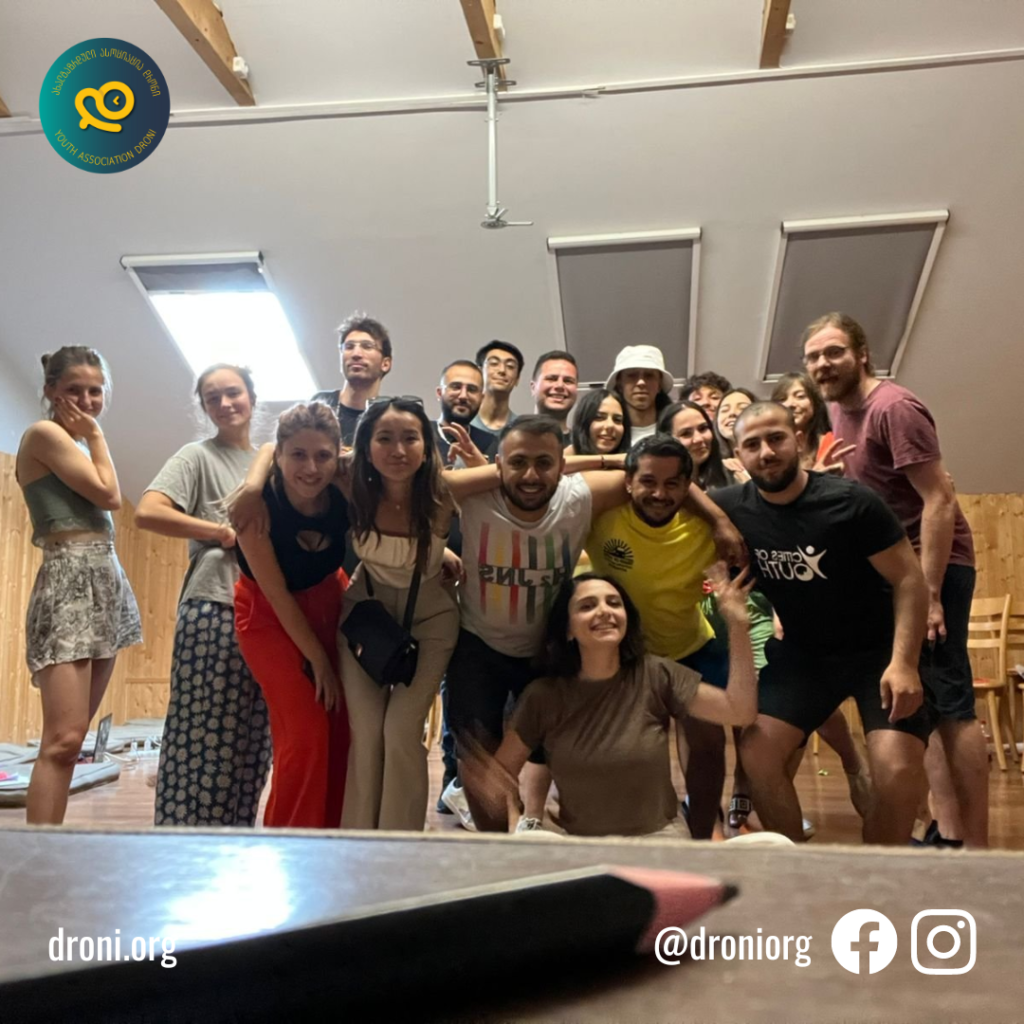 LAST DAY REPORT from Moshin:
"The day started with Breakfast at 9 and all the participants were in Hall for the last day of training at 10. It kicked off with a session planned by Mohsin from Train of Hope Germany on Mental Health and Wellbeing and was followed up by another session by Serine from IYM Armenia on Animation and short game development. The participants really enjoyed and appreciated such sessions. Then, there was a Country-wise Follow up for the things to do after the extended training and apply the learnings in the field. Where team Armenia came up with awareness sessions on Erasmus+ and technology in different cities of the country by the end of July. Team Germany came up with workshop conduction in their office with the name of Environment, Technology and Health, with youth groups. Team Sweden, Mahdad came up for project implementation on teaching Robotic kits for youth groups between 16-20, that can be built and work with Bluetooth and mechanical building programming of robots. The others in the team mentioned awareness sessions. Team Georgia came up with the online promotion of the things learned In the training with quizzes and information sharing on social media. We then gave some feedback to the organizers. There was a lunch break. Each participant generated their Youth Pass and overlooked their learnings in the group. Then, an introspective approach for all the activities done in the whole week with online evaluation utilization. Then also on charts and orally. The day ended with a special Thank you to all the participants and facilitators, followed by fun games and relaxation at the swimming pool, we were all sad to leave but we hope to keep in touch!"